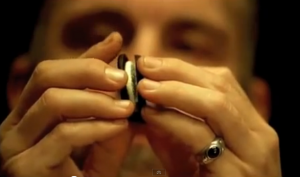 My email acquaintance Michael Blinder pointed out something very awesome in the movie Rounders. Both Teddy KGB and Mike McDermott (Matt Damon's character) exhibit a few poker tells besides the infamous Oreo cookie one. Both of them exhibit a kind of poker tell I call "disclaimers", which are verbal statements designed to explain away (in other words, disclaim) the meaning behind an action. It's like when an amateur player moves all-in with the nuts and says "I'm pretty short, might as well go all in." (Here's a link to a previous post about disclaimers.)
Before going on, though, let's look at an example of this poker tell from a real game, just so you know this has real-world application. Here's a very obvious one from the PokerStars Big Game where amateur David Fishman makes the nuts on the river against Phil Hellmuth. (Hand starts at 13m30s and is continued on another video.)
Hellmuth bets into Fishman and Fishman feigns uncertainty, saying "I'm not gonna let you do this to me again, Phil." Then he pushes all in. Fishman is trying to suggest that he is tired of being pushed around and that is why he is fighting back. This is a very classic example of a disclaimer, and many amateurs do this. If an amateur player tries to make excuses for why he's betting or raising, you should be very wary. Even a lot of experienced players will do subtle variations of this (although experienced players will also be capable of switching these kinds of things up, so it's best to only trust it from players who you think are predictable.)
In the first scene in Rounders between Teddy KGB and Matt Damon (I'll just call him Matt Damon instead of Mike D.), the match ends with Damon getting A9 on a board of A8993 for the full house and KGB having AA for the higher full house. Watch the clip once through, if you have time, and see if you notice examples of disclaimers.
(Also, by the way, I insert time code links in the YouTube links in this post, so for most people the links should go right to the spot I'm talking about. But for a lot of mobile devices, I've been told the time code links don't work. Just FYI.)
Okay, here's the first one, at 13 seconds: Damon raises pre-flop and KGB smooth-calls with his AA, saying "Position raise. I call." He's implying that he's calling because he thinks Damon's raise is based solely on his dealer button. Obviously he's calling because he's very strong and wants to misdirect Damon's attention from that idea.
Next, on the river, at 2:12, KGB bets into Damon, and Damon feigns shock, saying "Time" and holding up his hands as if overwhelmed.
Then, a minute later, after his "pondering", Damon goes all in, saying "Yeah, I'm gonna go all-in, cause I don't think you got the spades." This is a disclaimer, stating that Damon is going all-in mainly because he thinks KGB did not make a hand. Not to mention the fact that Damon's acting of shock at KGB's bet, and then his subsequent pushing all-in, was a hell of a tell, too.
These are ridiculously obvious, aren't they? Let's put aside the fact that these two are leaking tells like a grade-schooler would and move on to the last scene; the final confrontation between KGB and Damon.
Feel free to watch it by yourself first, to see if you can spot the disclaimers.
In this hand, Damon raises pre-flop with 89 of spades and KGB calls. The flop comes 67T, giving Damon the nuts. Damon checks, KGB bets $2,000, and Damon calls, saying "All right, I'll call the 2 grand, I'll gamble." This is one you hear a lot, although it's so common to say it, it doesn't mean much if a decent player says it. Although in this case, considering Damon was the pre-flop raiser, then checked, then gave a disclaimer, it might make you a little wary if you were KGB.
Okay, then the turn comes a blank. Not really a verbal disclaimer, but Damon sighs, like he's hurt. Sort of reminds me of the hand in the WSOP when he flopped a boat and got all sad (click to link to my blog post about that.) And this is a good place to point out that disclaimers are just another manifestation of the same type of instinct that players have when they try to look sad or upset by the cards; they're all just different ways players try to misdirect your attention away from the truth.
KGB bets the pot, and Damon calls, saying, "Okay, Teddy, I'm gonna call you, or else I won't respect myself tomorrow morning." Again, to really beat a dead horse, Damon is implying he's only calling because he doesn't want to be run over by KGB, so we can be pretty sure he's calling for another reason.
Then Damon slowrolls KGB on the river and that's the end.
I thought at first, when I started studying the first scene, that maybe the movie-makers were having McDermott display this tell purposefully, at the start of the movie, to show that he had grown as a player by the end. That he had gotten rid of his obvious verbal tells. But, nope, he was letting out a stream of disclaimers there, too. And of course KGB had one himself with his Aces.
Okay, so KGB and Mikey McDermott are total fish. That's something that's become increasingly obvious throughout the years the more I've played and the more I've learned. It's a process we all go through when it comes to this movie. Young, blind, ignorant love gives way to experience and harsh criticism. I love Rounders, but no one can argue it depicts realistic high-stakes poker scenes. (But you could also argue that realistic high-stakes poker scenes would not make a good movie.)
And even though Rounders is fiction, I think you can take away some valuable real-life lessons; if you hear a guy trying to give you harmless excuses for why he's calling or raising, you should be very careful. If you hear a guy use reliable disclaimers in every hand he plays, like Damon does here, I'd say you're in a very good game.
So why are these things in the movie? Are they supposed to be there? What does it mean from a scriptwriting perspective? Did the screenwriters Brian Koppelman (who I follow on Twitter, by the way: @briankoppelman – please don't hate me, Brian; I'm a fan. Hmm, also disregard the YouTube movie clips of your movie, if you could.) and David Levien put these tells in purposefully? Did they know that these were very obvious tells? My guess is that they didn't. I think these tells are a result of just trying to make the characters "double-cross" each other in interesting ways, to make them seem "tricky", to make them seem interesting. Like in an action movie, when the hero hides a second gun behind his back and feigns fear when his main gun has been taken away; these are just ways to make our hero or villain more conniving and clever. I don't think these things were purposefully included as poker tells.
If these tells are there as a result of the screenwriters not realizing what these things meant, you could say that these tells are actually the tells of the screenwriters themselves.
But I could be wrong. The other option is that Koppelman and Levien knew they were obvious tells, but that it was the price they thought they had to pay to "Hollywoodize" poker and make it interesting. This explanation might make sense, because if KGB and Damon were silent, as they would usually be in a real life game, it wouldn't make for very compelling drama. Although then I would argue that it is still possible to create dramatic table talk that is realistic, too. That would be a scene I'd like to write; a dramatic, tense scene, but yet one that stays true to what decent players would be doing and saying in such a situation.
Finally, I'd like to thank Michael Blinder again for bringing this stuff to my attention. Michael is also the same guy who wrote a most awesome review of my poker tells book. It's a review that I may or may not deserve, time will tell, but I am honored that he wrote it.